Turners Beach, Yamba, New South Wales
Yamba Surf Lessons - approx. $50/pp
Although there are many seaside places to go surfing along the Australian coastline, one destination that stands out from the rest is Yamba.
3.5 hours from Brisbane across the border is the seaside town of Yamba on the coast of northern NSW. The top reasons to go to Yamba is to enjoy its beautiful beaches and outstanding coastal surfing opportunities away from the crowds.
Serious surfers would be keen to surf at Angourie Point, which is a surfing destination with one of Australia's best right-hand point breaks. The surfing here is so good; it's one of the few surfing reserves in Australia!
With several beaches to choose from, it doesn't matter whether you're a beginner or expert surfer although beginners should start at Turners Beach, where the swells are gentle and it's a great place to learn to surf.
Once you have mastered the basics, head to Yamba's Main Beach where there's the bonus of an on-duty lifeguard and those who don't want to surf can body surf or swim safely.
Yamba is an attractive destination for seasoned and expert surfers who will relish rising to the challenge of surfing Back Beach and Spooky Beach in Angourie before heading out with the serious surfers to Angourie Point.
Recommended by Christina from TRAVEL2NEXT.COM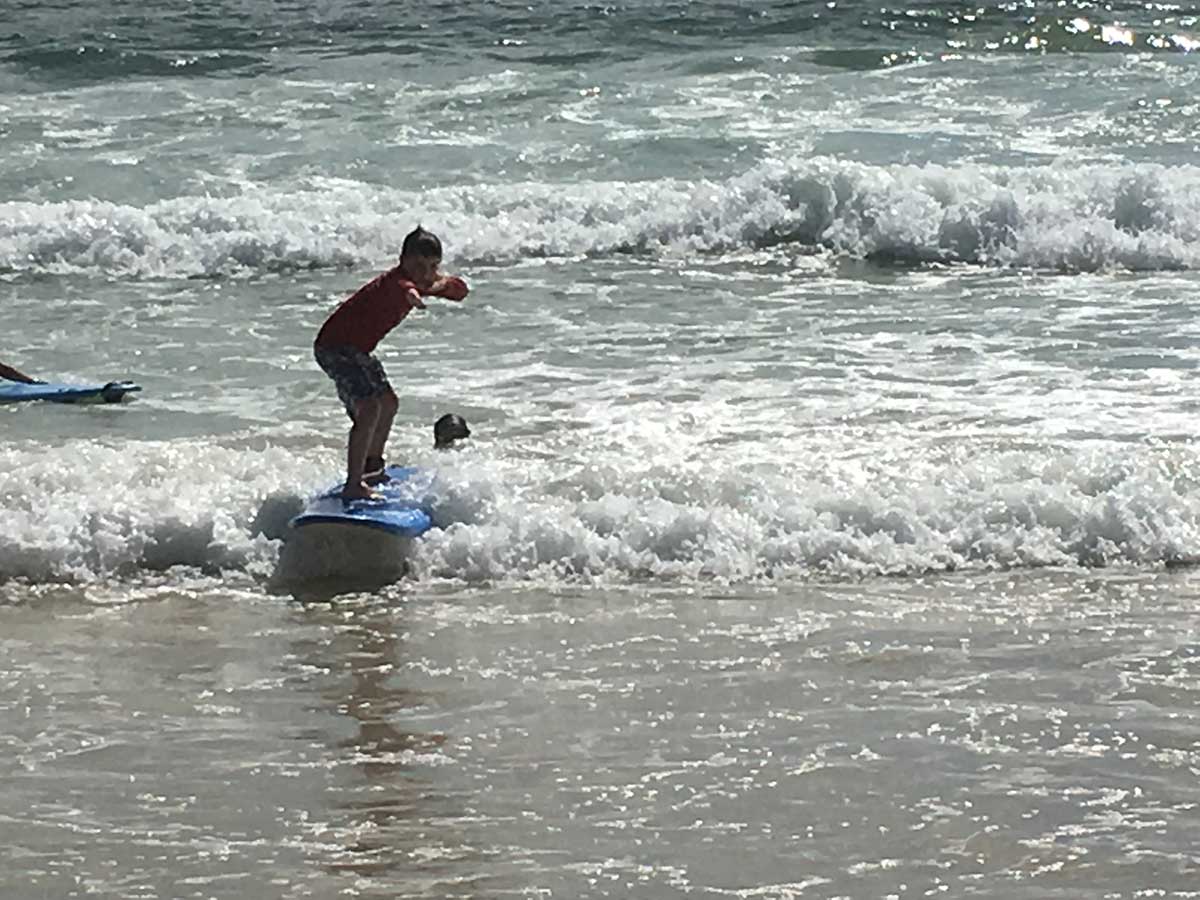 Best time to visit
Best time of year to go: All year round
Best time of the day to go: When surf conditions are right.
Driving distances
Brisbane to Yamba: 3 h 3 min (278.0 km) via M1 and Pacific Hwy/A1
Gold Coast to Yamba: 2 h 22 min (205.6 km) via M1 and Pacific Hwy/A1
Grafton to Yamba: 48 min (61.7 km) via Big River Way and Pacific Hwy/A1
Lismore to Yamba: 1 h 15 min (93.0 km) via Wyrallah Rd and Pacific Hwy/A1
Sydney to Yamba: 6 h 54 min (657.3 km) via Pacific Hwy/A1
What you should bring/wear
If you're taking a surfing lesson, safe learner surfboards, sun shirts and sunscreen is provided but if you're surfing on your own make sure you bring these items.
More information
Head to the northern end of Yamba's main street and turn right at the Calypso caravan park. Follow the road to Yurners Beach.
If you are a surfer, Yamba is great because there's a high chance of finding a beach with good surfing conditions. If the wind is blowing north, try the break wall end of Turner's Beach but if there's a southerly, there are more choices including Turner's Beach, Angourie Point, or Main Beach.
Yamba Accommodation
Yamba Budget Accommodation:
Yamba Mid-range Accommodation:
Yamba Luxury Accommodation:
Things to do in Yamba:
Go on a Clarence River Cruise
Explore Scottish history in the country town of Maclean
Go on a self-guided walking tour of Yamba
Yamba Restaurants
Drift for gourmet pizza
Pacific Hotel for modern Australian bistro-style cuisine
Irons and Craig for coffee and the best doughnuts
Popular Yamba Tours
Group Surfing Lessons – Surf lessons for all types of levels from beginners to intermediate to advanced surfers from all walks of life.
 Subscribe for Bucket List updates