See Platypus in the wild at
Yungaburra
Platypus Viewing Platform, 4434 Gillies Hwy, East Barron, QLD
 Getting to see platypus in the wild, one of the more elusive Australian Native Animals, is high on the Bucket List for many tourists visiting Australia.
Early Australian explorers first thought that the Platypus was a fake animal, some mythical creature made up to confuse. No one could believe that an animal existed with such an unusual combination of features; swim underwater, have a beak and webbed feet like a duck, a tail like a beaver, fur like an otter, lay eggs but produce milk to feed their young.
Seeing a Platypus in the wild is almost impossible, unless you know exactly where to look. Yungaburra is one of the those locations where the Platypus love to swim and are easy for tourists to spot.
At Yungaburra there is a viewing platform that has been specially designed so you can observe the platypus in their natural environment without disturbing them.
You can also walk across the bridge and down the track which goes below the road. The track follows alongside the Peterson Creek where platypus are frequently seen.
Recommended by Susan Gan from Thrifty after 50.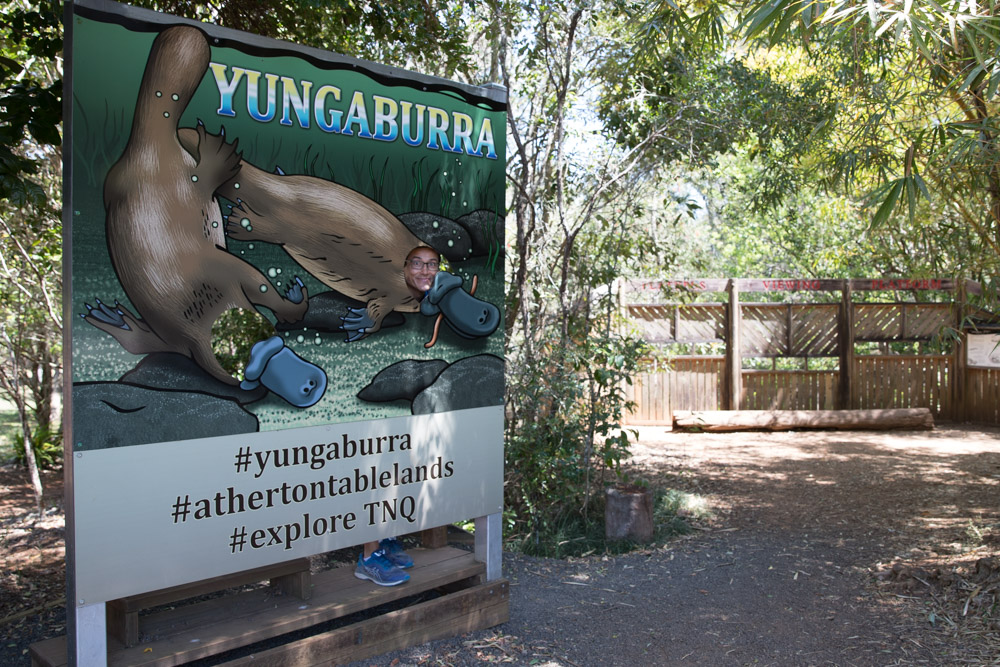 Best time for this activity
Platypus are generally most active around dawn, dusk and during the night. However, you still may see them at Yungaburra during the middle of the day.
Driving distances
Yungaburra to Cairns – 1 hr 9 min (67.4 km) via State Route 52 and Bruce Hwy/A1
Parking facilities
There is a small parking area just near the viewing platform. 

Official website
What you should bring/wear
Wear comfortable walking clothes and don't forget your camera.
More Information
There are several places down by the creek that are perfect for a picnic.
Some tips on spotting Platypus:
* keep noise to a minimum
* best viewing times are dawn and dusk
* watch the surface of the water for bubbles or ripples
Frequently Asked Questions
Is a platypus a mammal? Yes, a platypus is a mammal because it has fur and feeds its young.

Is the platypus poisonous? Yes, the male platypus has a spur (platypus stinger) on their back feet that secretes poison. Platypus poison claws are not life-threatening to humans but can be extremely painful.
Do platypus lay eggs? Yes, the platypus is one of 5 egg laying mammals known as monotremes.
Can you keep platypus as pets? No, they cannot be legally kept as pets in Australia. 
Where to stay nearby
Yungaburra Accommodation:
Atherton Accommodation:
Atherton Tablelands Birdwatchers' Cabin
What to see nearby :
 Things to do in Yungaburra
Milla Milla Falls

Curtain Fig Tree Yungaburra, Curtain Fig National Park
Things to do in Atherton
The Crystal Caves
Bat Hospital Visitor Centre
The Waterfall Circuit
Popular Atherton Tablelands Tours
Boutique Atherton Tablelands Small-Group Food and Wine Tasting Tour from Cairns
Full-day food and wine tasting tour of the Atheron Tablelands from Port Douglas

Enjoy tours and tastings of wineries, artisan producers, distilleries and coffee plantations

Sample a range of local specialties like tropical fruit wines, homemade fudge and dried dragon fruit

Spot platypus in their natural environment

Travel by comfortable minibus

Small group tour ensures a personalized experience.
Atherton Tablelands Rain Forest by Night from Cairns
Guided wildlife–spotting tour of Atherton Tablelands rainforest

Follow interpretive rainforest walking trails to see native wildlife in their natural environment

Look for animals such as the shy platypus, Lumholtz tree kangaroos, and tree frogs

Enjoy afternoon tea at Lake Barrine, a natural volcanic crater lake

Go platypus spotting at dusk

Enjoy dinner at a country restaurant

Small-group tour with a maximum of 11 participants provides a more intimate experience
Day Tour to Paronella Park, Lake Barrine and Millaa Millaa Falls
Full-day tour of the Atherton Tablelands from Cairns
Admire the castle and waterfall of Paronella Park on a guided tour
Great-value tour includes hotel pick-up, entrance fees and round-trip transport from Cairns
Enjoy your choice between three itineraries
 Subscribe for Bucket List updates