Nitmiluk
Gorge
(Katherine Gorge)
Nitmiluk Visitor Centre, Gorge Rd, Nitmiluk National Park, Katherine, NT
Nitmiluk Gorge, located just outside the small Central Australian town of Katherine, is one of the highlights of a trip to the Northern Territory.
Carved out over thousands of years by the Katherine River, the rocky sandstone cliffs protect hidden treasures of Aboriginal rock art, secluded billabongs and all manner of wildlife including birds and freshwater crocodiles.
There are many ways to explore the Nitmiluk Gorge, also know as Katherine Gorge (which is actually 13 separate gorges), which makes it perfect for people of all ages and abilities.
Taking a sunrise or sunset cruise up the first 2 gorges is a great way to learn about the Gorge and the cultural history of the traditional Jawoyn and Dagomen owners.
For hikers there are challenging single and multi-day hikes to tackle, including the famous 5 day Jatbula Trail.
For everyday adventure seekers, one of the best ways to enjoy the gorge is to rent a kayak and paddle upstream through the changing landscape of each gorge.
A ½ day or full day rental allows plenty of time to paddle through several gorges, explore secluded billabongs and enjoy the changing light on the sandstone cliff faces looming alongside the river.
And for those looking for a little extra adventure, it is possible to pack a tent in the kayak and camp overnight at the far end of the gorge at secluded campsites alongside the river.
When planning a Northern Territory itinerary, be sure to include a trip to Nitmiluk Gorge. Experiencing the beauty of this natural wonder is an absolute highlight of any trip to Central Australia.
Recommended by Rachel Rodda from Adventure and Sunshine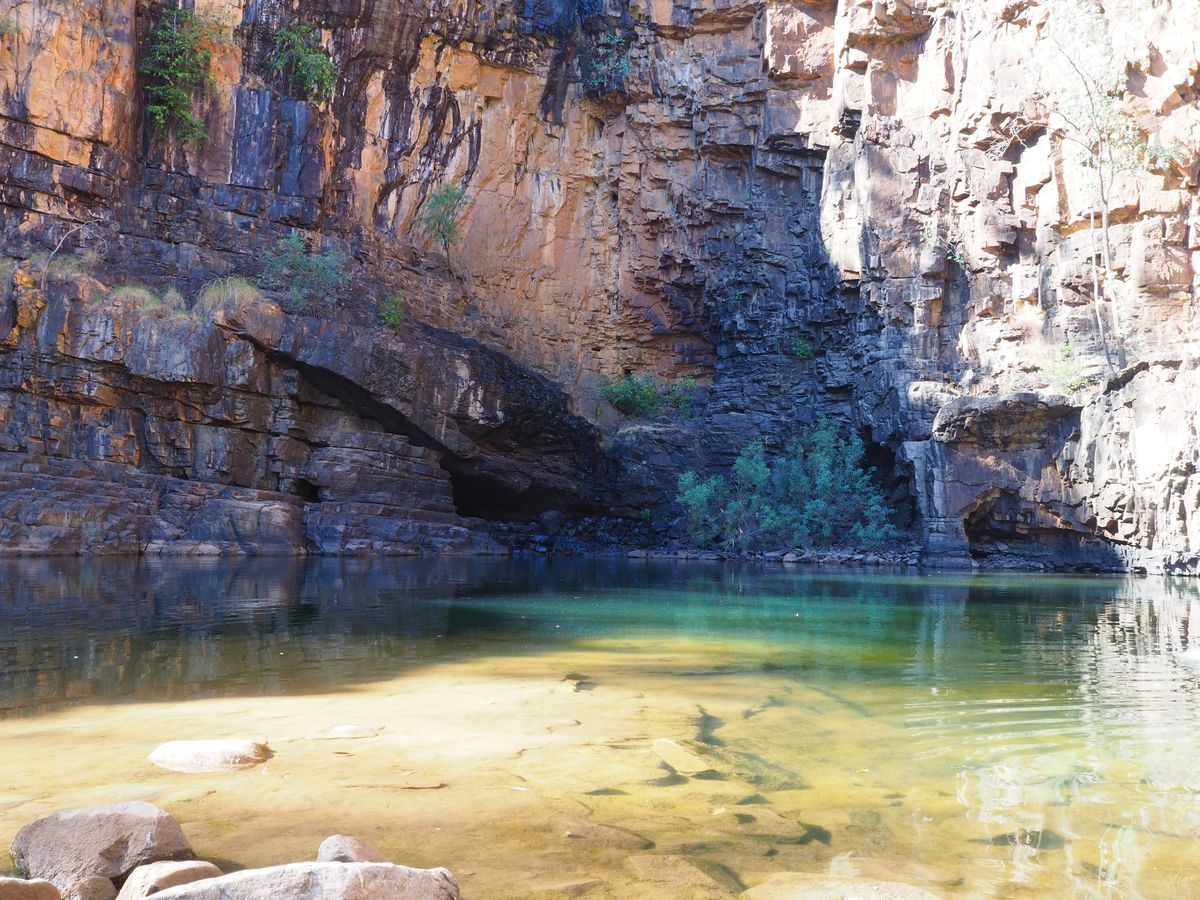 Best time for this activity
Best time of the day to go : Best to start any activities early when it is not too hot, but the gorge can be enjoyed at any time of day. Beautiful at Sunrise and Sunset.
Best time of the year to go : Whilst the Park is open year round, many activities are not possible in the Wet Season. The best time of year to explore the region is May – September.
Driving distances
Darwin to Katherine Gorge – 2 h 58 min (292.4 km) via National Highway 1
Katherine to Katherine Gorge – 22 min (27.9 km) via Gorge Rd
Parking facilities
There is plenty of space for free parking!

Official website
What you should bring/wear
Comfortable clothing, plenty of drinking water, swimwear, hat, sunscreen.
Wheelchair friendly?
No. Access between the gorges is by walking. 

More Information
Full day kayak hire is the best way to enjoy a relaxing day on the river.
Nitmiluk Accommodation
Budget Accommodation:
Nitmiluk Gorge Caravan Park
Luxury Accommodation:
Nearby Activities :
Enjoy sunset from the Baruwei lookout (1 hour return from Nitmiluk Visitor Centre)

Take a day trip to the stunning Edith Falls (60km from Nitmiluk Visitor Centre)

Relax in the pretty Katherine Hot Springs, just outside the town of Katherine

Canoeing Katherine Gorge

Nitmiluk Cruises
Places to eat in nearby :
BBQs are available on site for self catering.

The Nitmiluk Visitor Centre Café offers snacks, café style meals and drinks.
 Subscribe for Bucket List updates