Hiking in the Blue Mountains
Blue Mountains National Park, New South Wales
Hiking in the Blue Mountains is an incredibly beautiful experience. With endless viewpoints and over 1,000 canyons, it's a unique area full of flora and fauna including koala and kookaburra.
A weekend in the Blue Mountains is a fantastic trip from Sydney and very accessible even if you're travelling by public transport without your own vehicle. You can stay in popular town, Katoomba, which has plenty of affordable location and places to eat. Using Katoomba as a launching point, there are endless hikes, viewpoints and sunset spots in the Blue Mountains.
There are various hikes for all levels of ability and a cable car for those who want to see the views without a strenuous hike. A recommended hike from Katoomba (if you don't mind stairs) is the Federal Pass walking track, taking two hours and offering panoramic views from the top of the Giant Stairway.
The Blue Mountains are entwined with Aboriginal Dreamtime legends including one about three sisters named Meehni, Wimlah and Gunnedoo. The famous Three Sisters rock formation (often used as an emblem for the Blue Mountains) is named after them. As the legend goes, the sisters fell in love with men from a different tribe which was prohibited. The elders turned the girls to stone to protect them from harm. Whether you believe the story or not, the view over the striking rock formation will take your breath away!
Recommended by Rose from Where Goes Rose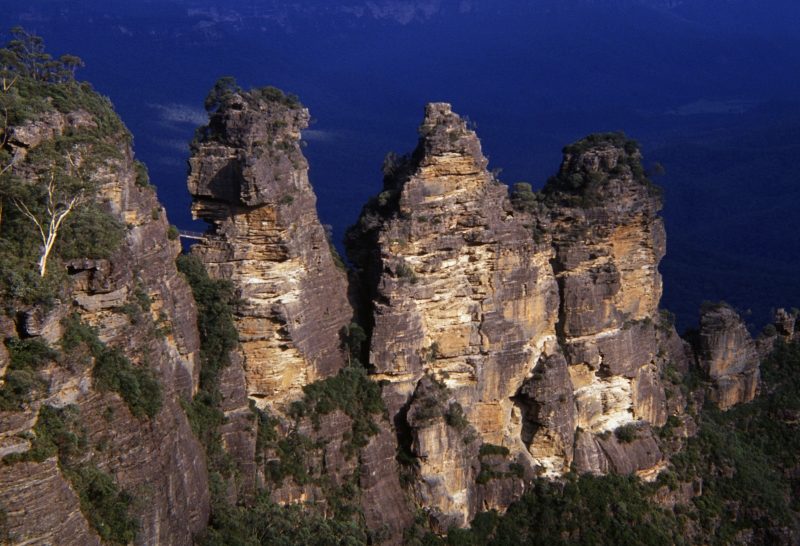 Best time for this activity
Best time of year to go: October to May is a good time for trekking. It gets cooler towards the end of this season and remains cold until September but you can still visit if you wrap up warm. You'll benefit from cheaper accommodation prices during this season.
Best time of day to go: It's best to start early to hike as much as possible and beat the heat.
Driving distances
Sydney is the largest big city but larger towns and villages in the Blue Mountains include Katoomba, Wentworth Falls and Leura.
Sydney to Blue Mountains – 1 h 2 min (79.1 km) via M2 and M4
Parramatta to Blue Mountains – 45 min (40.6 km) via M4
Parking facilities
There is a parking area at Echo Point and Katoomba Cascades, otherwise you can park at your accommodation in Katoomba.

Official website
What you should bring/wear
Hiking boots, sunscreen, sunglasses, hat, water, layers for the cooler seasons.
Wheelchair friendly?
For viewpoints, yes. For hiking, no.

More Information
Don't spend too long at Echo Point. While it offers great views, it gets busy so after taking some photos, follow the walking trails to quieter spots.
The Blue Mountains span over 4,000 miles but the best place to easily explore them from is the town of Katoomba which can be reached from Sydney by car or train in 1.5 hours.
Blue Mountains Accommodation
Blue Mountains Budget Accommodation:
Blue Mountains Mid-range Accommodation:
Blue Mountains Luxury Accommodation:
Blue Mountains Activities :
Echo Point (the most popular viewpoint in Katoomba)
Three Sisters (three large rock formations named after a Dreamtime legend)
Katoomba Cascades (a scenic waterfall)
Places to eat in the Blue Mountains :
The Station Bar and Woodfired Pizza for endless pizza toppings including kangaroo!
Cafe Pomegranate for delicious coffee and brunch including eggs benedict.
Best walks in Blue Mountains :
Cliff Top Walking Track – Easy/Moderate
Charles Darwin Walk – Easy/Moderate
Katoomba Falls Round Walk – Easy/Moderate
Three Sisters to Katoomba Falls – Easy/Moderate
Pulpit Rock – Easy/Moderate
Govetts Leap Loop – Moderate
Prince Henry Cliff Walk – Moderate
The Grand Canyon – Moderate/Hard
The Valley of the Waters – Hard
Wentworth Pass – Hard
Scenic World to Ruined Castle – Hard
 Subscribe for Bucket List updates