Gunlom
Falls,
Kakadu N.P.
Gunlom Falls, Kakadu National Park, NT
Open between May and October
Stay as long or as little as you like!
Family friendly but challenging to get to!
The Top End is by far Australia's best kept secret.
Full of Australian aboriginal history and culture it really is an experience like no other in Australia.
Gunlom Falls is located in Kakadu National Park, the falls can be viewed from an all access easy walk out to the bottom of the falls, known as the Gunlom Billabong. If you're lucky and arrive early in the tourist season you may see the falls in full flow, the Gunlom Billabong was made famous in the movie Crocodile Dundee. 
To really experience Gunlom Falls you must climb to the plunge pool. It's not the easiest of hikes and parts are pretty intense, it is however more than worth the effort. You would need to be of a reasonable level of fitness to do it, as in parts the track fades requiring you to scramble over rocks. 
You are best to make the climb either first thing in the morning or later in the afternoon when the sun starts to dip. The heat of the day is not the time to tackle it, make sure you carry plenty of water and stop frequently. There are pros to both experiences, early morning means you have all day to enjoy the amazing Gunlom plunge pool seen in many NT advertising campaigns, however the afternoon allows for a sunset viewing before heading back down. 
Best of all this experience wont cost you cent, other than getting there. 
This area has limited accessibility, it is not open in the wet season from October to April and won't open until the billabong has been cleared of saltwater crocodiles.
There may still be some freshwater crocs, but if you stay out of their way they will be unlikely to attack. 
Recommended by Sally Lucas from Ourkidsvtheworld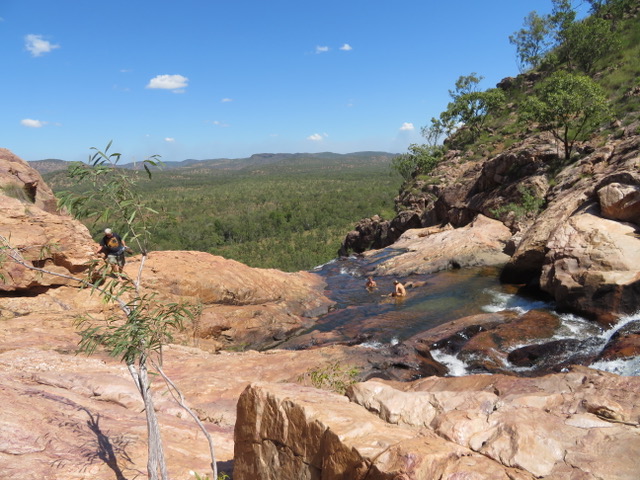 Best time for this activity
Best time of year to go: The falls are season and open between May and October.
Best time of day to go: In the early morning between 8am – 11am, or in the afternoon after 4pm. 
Driving distances
Kakadu Lodge to Gunlom Falls – 2 h 6 min (176.4 km) via Kakadu Hwy/State Route 21
Darwin to Kakadu National Park – 1 h 42 min (150.9 km) via Arnhem Hwy/State Route 36
Alice Springs to Kakadu National Park – 13 h 29 min (1,331.0 km) via National Highway 87 and National Highway 1
Uluru to Kakadu National Park – 18 h 22 min (1,798.2 km) via National Highway 87
Parking facilities
Plenty of parking located at the base of the falls and around the camp grounds.

Official website
What you should bring/wear
Bring your swimmers, a floatie, food, sturdy footwear and an adventurous attitude. 
Wheelchair friendly?
The Gunlom Billabong is wheelchair friendly but the hike to the falls is not suitable. 

More Information
You can only visit Gunlom Falls if you have a 4WD.
Upgrade to the 4WD and make the trip, stay up at the Gunlom plunge pool for as long as you can. Take food and plenty to drink and make sure you take all your rubbish with you when you leave.
This area is fairly remote, it is unlikely you would be here unless planning a camping trip.
Kakadu Accommodation
Kakadu Budget Accommodation:
Kakadu Mid-range Accommodation:
Kakadu Luxury Accommodation:
Things to do near Gunlom Falls :
There are plenty of walks around the falls, beware of snakes while out and about. There are plenty of other water holes close to Gunlom that you can explore however you will need a vehicle. 
Places to eat near Gunlom Falls :
You will need to bring all your food with you. There are no shops near Gunlom Falls.
Things to do in Kakadu National Park :
Jim Jim Falls, Kakadu National Park
Burrungkuy (Nourlangie) rock art site
Cruise Yellow Water Billabong
4WD to Jarrangbarnmi (Koolpin Gorge)
Swim in the Maguk plunge pools
Places to eat in Kakadu National Park :
Anbinik Restaurant
Anmak An-me Cafe
Barra Bar and Bistro
Jabiru Sport and Social Club
Kakadu Lodge
 Subscribe for Bucket List updates