Coober Pedy underground hotel
Coober Pedy, South Australia
Visit in Spring or Autumn
They say to get the most from a destination you should live as the locals do – and, in one small town in South Australia, that means sleeping in a Coober Pedy underground hotel.
Located in the middle of the outback, this opal mining town is hot. Very hot. The average Coober Pedy temperature in summer is around 36C but once peaked at 47.8C. As such, around 80 per cent of the local population sleep in underground homes  –  with a selection of underground hotels and hostels in Coober Pedy you can do the same.
It's a truly unique experience as the rooms are carved directly into the rock creating swirls and stripes on the walls that change with the colours of the stone. You'll be amazed at how cool and quiet your hotel room in the heat of the day – and at how dark it is at night. It's 'can't even see the floor' dark – so definitely take note on how to find your way to the bathroom!
But it's not just sleeping in an underground bed that happens in Coober Pedy. You can drink cocktails in the underground bar at the Desert Cave Hotel (one of the best underground hotels in Coober Pedy), and you can't miss a trip to the three underground churches, particularly the beautiful Serbian Orthodox Church which is set a little way out of town and comes complete with stained glass windows.
But don't worry, you don't need to spend your whole trip underground – there's some breathing taking scenery and quirky attractions to check out too. It really does make for a fantastic unique break.
Recommended by Helen Foster from Differentville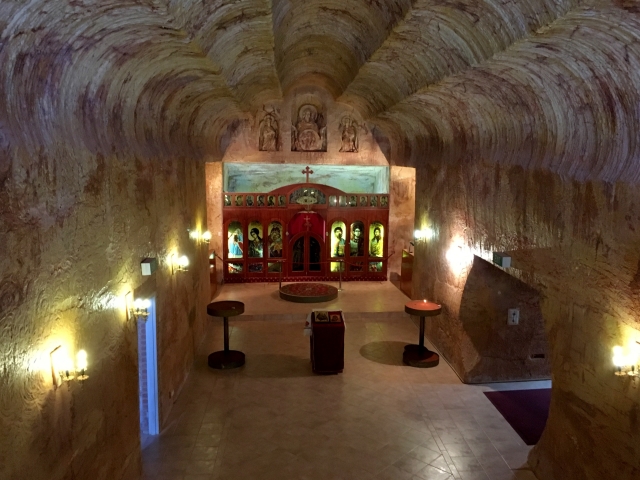 Best time to visit
Best time of year to go: Spring or Autumn when it's neither too hot or too cold. During off-season much of the town is closed.
Driving distances
Alice Springs to Coober Pedy distance – 687km (6h 58) via A87
Adelaide to Coober Pedy distance – 850 km (8h 46) via Highway 1 and A87
Port Augusta to Coober Pedy distance – 542km (5h 27) via A87
Parking facilities
At hotels or on the main streets

Official website
What you should bring/wear
Cool clothing, sunscreen, hat.
Wheelchair friendly?
Mostly wheelchair friendly – check with hotels how the underground rooms are accessed

Coober Pedy Accommodation
Coober Pedy Budget Accommodation:
Coober Pedy Luxury Accommodation:
Things to do in Coober Pedy:
The Breakaways – stunning desert landscape.
Crocodile Harry's Nest – the home of local legend, and infamous lothario, Crocodile Harry.
Josephine's Gallery and Kangaroo Orphanage for the chance to get up close with rescued baby, and adult, kangaroos.
Coober Pedy Restaurants
John's Pizza Bar and Restaurant, for good pizza and pasta.
Outback Bar and Grill – attached to the gas station but the food is very good and the mixed menu offers something for everything.
The Italian Miners Club –  no food but a great place for a drink to see the sunset.
Popular Coober Pedy Tours
Coober Pedy Tagalong Tour – This unique tour allows the traveler to remain in the comfort of their own vehicle whilst traveling our quirky town. An experienced and award winning guide ensures you get only the best commentary and travel in safety.
4 Day Adelaide to Coober Pedy Adventure – The 4 Day Outback Tour explores the fascinating outback regions of Outback Southern Australia in a small group of intrepid travellers. Accommodation is bush camping in a swag around the campfire. The Tour visits The Flinders Ranges, Lake Eyre, William Creek, the Oodnadatta Track and Coober Pedy and of coarse Lake Cadibarrawirracanna.
Adelaide To Coober Pedy 7 DAY SMALL GROUP 4WD SAFARI – 
Visit some of the following locations: Pt Augusta Wadlata Outback Centre, Coober Pedy Mine tour, Coober Pedy Underground accommodation, Remote William Creek pub, Dingo Fence, Beltana historic Town, Brachina & Bunyeroo Gorges & Wilpena Pound.
 Subscribe for Bucket List updates