Drive the Benalla
Silo Art Trail
Benalla, Victoria, Australia
For a road trip with a difference, explore the Victorian countryside and go for a drive along the Benalla Silo Art Trail.
Grain silo art (or wheat silo art) is becoming popular across Australia with beautifully designed and painted silos popping up all over the countryside forming a stunning and very unusual outdoor art gallery.
Empty grain silos across Australia are being given a new purpose and being decorated with beautiful silo murals.
Silo art trails are a fantastic way of promoting regional Australia (as well as showcasing the silo artist) and are helping to breath life back into our small country towns.
Once deserted towns are now teeming with activity as visitors drive up to explore the town and admire the silo artwork.
The north east silo art trail of Victoria (also known as the Benalla Silo Art Trail) starts in the town of Benalla and takes you on a tour through the towns of Goorambat, Devenish, St James,  Tungamah as well as the Winton Wetlands.
Recommended by Susan Gan from Thrifty after 50.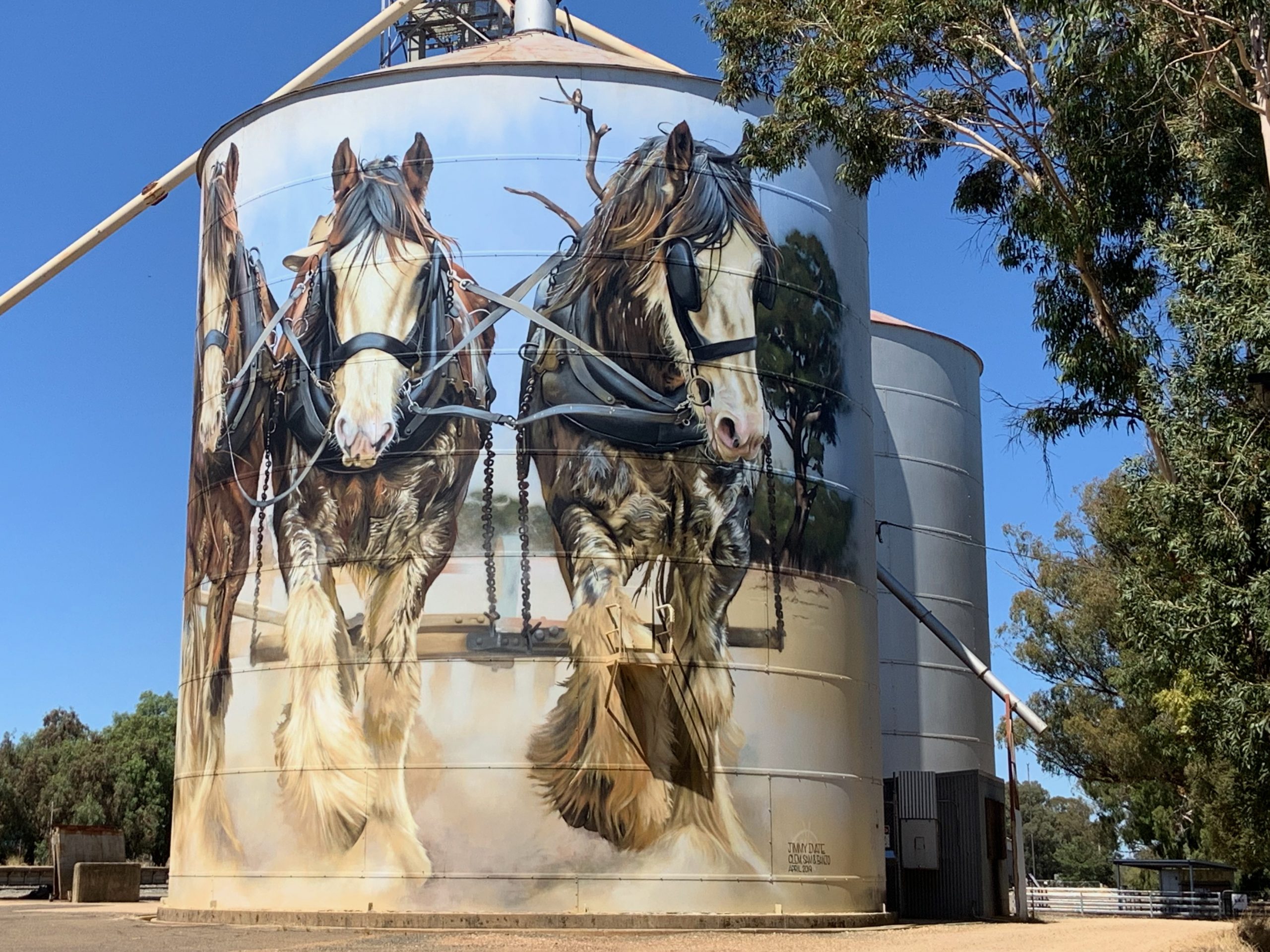 Best time to see Silo Art Victoria
The Silo Art Trail Victoria can be explored all year round.

Your silo art tour can be done in all weather and at anytime of the day.
Driving distances
Melbourne to Benalla –2 hr 17 min (211.5 km) via National Highway M31
Benalla to Wangaratta – 31 min (47.1 km) via National Highway M31
Official website for Silo Art Australia
Visit the Australian Silo Art Trail for an Australian silo art trail map.
Browse silo photos and search the site for your favourite silo painting.
What you should bring/wear to see silo images
Just wear general street/travel clothes.

For a great silo picture, don't forget to bring your camera.

Is seeing silo paintings wheelchair friendly?
Yes, most of the Silo Art near Benalla is easily visible from the car or from the side of the road.

For more information about the Silo Art Trail Benalla
The Benalla Visitor Information Centre is located at 14 Mair St, Benalla.

Opening Hours:
9am-5pm Monday-Friday
10am-4pm Saturday and Sunday
Where to stay nearby
Benalla, Victoria – Accommodation:

What to see nearby :
Benalla Attractions:
– Benalla Art Gallery
– Benalla Botanical Gardens
– Benalla Street Art
– Benalla Lakeside Craft and Farmers Market (fourth Saturday of the month)
Winton Wetland Reserve
Ned Kelly Touring Route
Where to eat nearby :
Bouwmeesters Bakery – Benalla
Rustik Cafe – Benalla
Goorambat Railway Hotel
Tatong Tavern
Morrisons of Glenrowan
 Subscribe for Monthly Deals