Luxury Escapes Canberra (A.C.T.)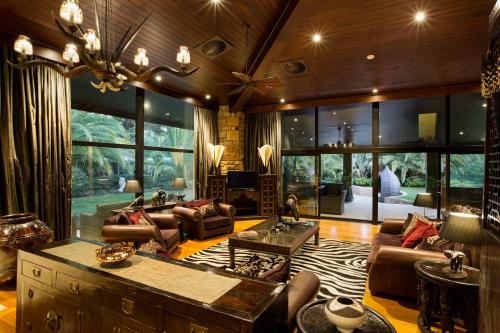 Jamala Wildlife Lodge
"Jamala Wildlife Lodge is the ultimate overnight safari at the National Zoo & Aquarium and Canberra's first all inclusive, luxury lodge experience. You will meet many of the most dangerous and endangered species on earth and learn how you can help their survival." – Jamala Wildlife Lodge
Luxury Escapes New South Wales
Arajilla Retreat - Lord Howe Island
"Perfectly positioned on the northern sheltered end of the Island's lagoon, nestled under a canopy of Kentia Palms and Banyan Trees, just behind Old Settlement Beach, meandering pathways lead through native gardens, to the beach, to the serene Day Spa, to Arajilla's luxurious Lord Howe Island accommodation suites and renowned restaurant." – Arajilla Retreat
Byron at Byron Resort & Spa - Byron Bay
"Nestled in 45-acres of magical subtropical rainforest, Byron at Byron, a Crystalbrook Collection Resort, is a celebration of nature, responsible luxury and the local environment. " – Byron at Byron
Cedars Mount View - Hunter Valley
"Cedars Mount View offers luxury Hunter Valley Accommodation with tranquil surrounds in beautifully appointed self-contained romantic spa villas." – Cedars Mount View
Crystal Creek Rainforest Retreat - Tweed Valley
"Our 102-hectare property is in the beautiful Tweed Valley in northern New South Wales. We're bordered on three sides by World Heritage National Park, assuring true peace and privacy. We seamlessly combine the key ingredients of the ultimate romantic getaway – privacy, comfort and seclusion – with a stunning natural location." – Crystal Creek Rainforest Retreat
Emirates One&Only - Wolgan Valley, Greater Blue Mountains
"Emirates One&Only Wolgan Valley is a scenic three-hour drive from Sydney, located on Australia's Great Dividing Range between the Wollemi National Park and the Gardens of Stone National Park, within the World Heritage-listed Greater Blue Mountains. The resort occupies just one percent of its own 2,800-hectare conservancy." – One&Only Wolgan Valley
Spicers Potts Point - Sydney
"Spicers Potts Point places the best of Sydney at your doorstep. Just a short walk to trendy cafes, Kings Cross station, Sydney city and harbour, within easy access of Sydney's best galleries and famous Bondi Beach, and set amongst a mix of historic art deco and modern architecture, Spicers Potts Point exudes an effortless blend of classic Sydney heritage character with a fresh contemporary feel." – Spicers Potts Point
Spicers Sangoma Retreat - Blue Mountains
"Our 102-hectare property is in the beautiful Tweed Valley in northern New South Wales. We're bordered on three sides by World Heritage National Park, assuring true peace and privacy. We seamlessly combine the key ingredients of the ultimate romantic getaway – privacy, comfort and seclusion – with a stunning natural location." – Crystal Creek Rainforest Retreat
The Villas of Byron - Byron Bay
"The Villas of Byron invite each of our guests to revel in their own private oasis. Set against a backdrop of Byron's lush coastal rainforest, The Villas are designed as exclusive compounds, providing our guests with the ultimate interior/exterior accommodation experience." – The Villas of Byron
Pretty Beach House - Central Coast
"Pretty Beach House is Australia's most exclusive luxury lodge, situated 90 minutes north of Sydney on the spectacular NSW Bouddi Peninsula. The property is set high on the escarpment above Pretty Beach and nestled into the spectacular Bouddi National Park. 
The property is surrounded by bush and water, from quintessential golden beaches to private, pristine bays." – Pretty Beach House
Luxury Accommodation Northern Territory
Bamurru Plains - Top End
"We invite you to immerse yourself in an extraordinary bush experience on the coastal floodplains of Australia's Top End. Bamurru Plains is a safari lodge with exclusive access to 300 km² of floodplains and savanna woodland on the Mary River, on the edge of Kakadu National Park. A profusion of bird and wildlife are at the doorstep of this unique bush experience that exudes 'Wild Bush Luxury' and brings a touch of style to the discovery of a remote and beautiful wilderness." – Bamurru Plains
Longitude 131° - Uluru
"Nestled among rich red dunes, Longitude 131° overlooks Australia's best-known natural icon, Uluru. The welcome open spaces of the central Dune House include a restaurant and bar with ever-changing views of the monolith as a backdrop for dining as well as lounging areas in contemporary campaign style, ideal for relaxing with an icy drink and exchanging stories of the day's adventures in the outback." – Longitude 131
Spoil yourself every once in a while.

Life is too short!
Luxury Escapes – Queensland
Lizard Island Resort
"The only resort located on a 1,013-hectare National Park and literally on the Great Barrier Reef, Lizard Island offers seclusion and natural privacy that you will cherish.
With only 40 rooms and villas and your choice of private beaches, escape to your own private beach for a day exploring the reef, taking in the incredible nature around you and all while never seeing another person. In a world of over 7.5 billion people – this experience is designed for just two." – Lizard Island Resort
Mt Mulligan Lodge, Mossman
"Mt Mulligan Lodge is situated on a secluded, entirely private 28,000-hectare heritage site, offering boutique accommodation in the shadow of majestic Mount Mulligan.
Mt Mulligan Lodge is proud to be part of the Northern Escape Collection, a curated selection of boutique experiences in Northern Australia designed to capture the adventurer in everyone." – Mt Mulligan Lodge
Narrows Escape Rainforest Retreat, Sunshine Coast
"Six exclusive villas, secluded in the pristine rainforest of the Sunshine Coast Hinterland, only 90 minutes north of Brisbane on the edge of Kondalilla National Park. We have designed the space especially for you. All the little details have been taken care of so that you can relax and enjoy the moment. Unwind by the crackling log fire, soak in a spa made for two as you gaze out at the tree canopy above." – Narrows Escape Raonforest Retreat
Peppers Beach Club & Spa Hotel, Cairns
"Charming Palm Cove is a classic tropical destination, with a beach fringed by swaying palms and a coastal village atmosphere. Your Palm Cove accommodation at Peppers Beach Club & Spa is in an iconic North Queensland resort, with lush green gardens, a rainforest rock pool and lagoon pool with sandy beaches." – Peppers Beach Club & Spa Hotel
Pethers Rainforest Retreat, Gold Coast
"Pethers is a private and secluded retreat designed exclusively for adults and set amidst five hectares of private and pristine rainforest, providing the perfect setting for your romantic escape." – Pethers Rainforest Retreat
qualia, Great Barrier Reef
"A world class luxury resort in the Whitsundays. qualia is a private world of sensory perfection on Hamilton Island.
Qualia's distinctive style combined with its sun-drenched location and intuitive service makes it a luxurious resort on world-class standards. It's a truly special place where everything has been meticulously considered to relax the mind and completely spoil the senses. " – qualia

Silky Oaks Lodge Hotel, Port Douglas
"Silky Oaks Lodge offers guests a stylish escape in the cool calm of the Daintree Rainforest. Set above the gently flowing Mossman River and among the leafy canopy, the airy, open spaces of the main lodge envelope guests in the sights and sounds of an extraordinary natural theatre." – Silky Oaks Lodge
Spicers Balfour Hotel, Brisbane
"Spicers Balfour Hotel is an award-winning boutique hotel, with their most recent accolade including the Best Boutique Hotel at the 2019 Queensland Hotels Association Awards for Excellence." – Spicers Balfour
Spicers Peak Lodge, Scenic Rim
"Spicers Peak Lodge is as far from the pressure of everyday life as it is possible to be. Set on 8,000 acres with a backdrop of World Heritage Listed national park, this exclusive Lodge provides the ultimate location for an all-inclusive luxury getaway. Escape to Spicers Peak Lodge and enjoy an award winning gourmet experience, relax with a treatment at Spa Anise, explore on a self-guided walk or simply take in the view. Here, relaxation and revitalisation comes naturally." – Spicers Peak Lodge
Luxury Escapes South Australia
Arkaba Wildbush Luxury – Flinders Ranges

The Frames – The Riverland Campbell Point House – Bellarine Peninsula
Mansion Hotel & Spa – Werribee
White Gates Cottage – Dandenong Ranges
Luxury Escapes Western Australia



True North – The Kimberley