25 Sandhurst Town Road, Myers Flat, Victoria, Australia 3556
Visiting The Great Stupa of Universal Compassion near Bendigo, Victoria will leave you feeling relaxed and peaceful.
The Great Stupa is based on the famous Great Stupa of Gyantse in Tibet and its base is 50 metres square and is almost 50 metres high.
This makes it the biggest stupa in the Western World. Construction began on the stupa in 2003 and the structure was finally completed in 2020.
During the building process, the Dalai Lama visited in 2007 and visitors have been trekking to the stupa for many years as it was slowly built. Slowly the stupa is being decorated and you can't miss entering the stupa.
The inside of the stupa is open to the public and is a peaceful space featuring the million dollar Jade Buddha. A 2.5 metre sculpture carved from what is thought to be the largest jade boulder in the world shipped all the way from Canada.
The stupa is significant for Tibetan Buddhism but people from all walks of life are warmly welcomed to visit the amazing site.
The stupa is located in bush land a 20 minute drive from Bendigo in central Victoria. When next visiting Bendigo, make sure you take the time to drive out to The Great Stupa and witness what can be achieved from a vision of inspirational people.
Recommended by Kate Comer from Travel Around Bendigo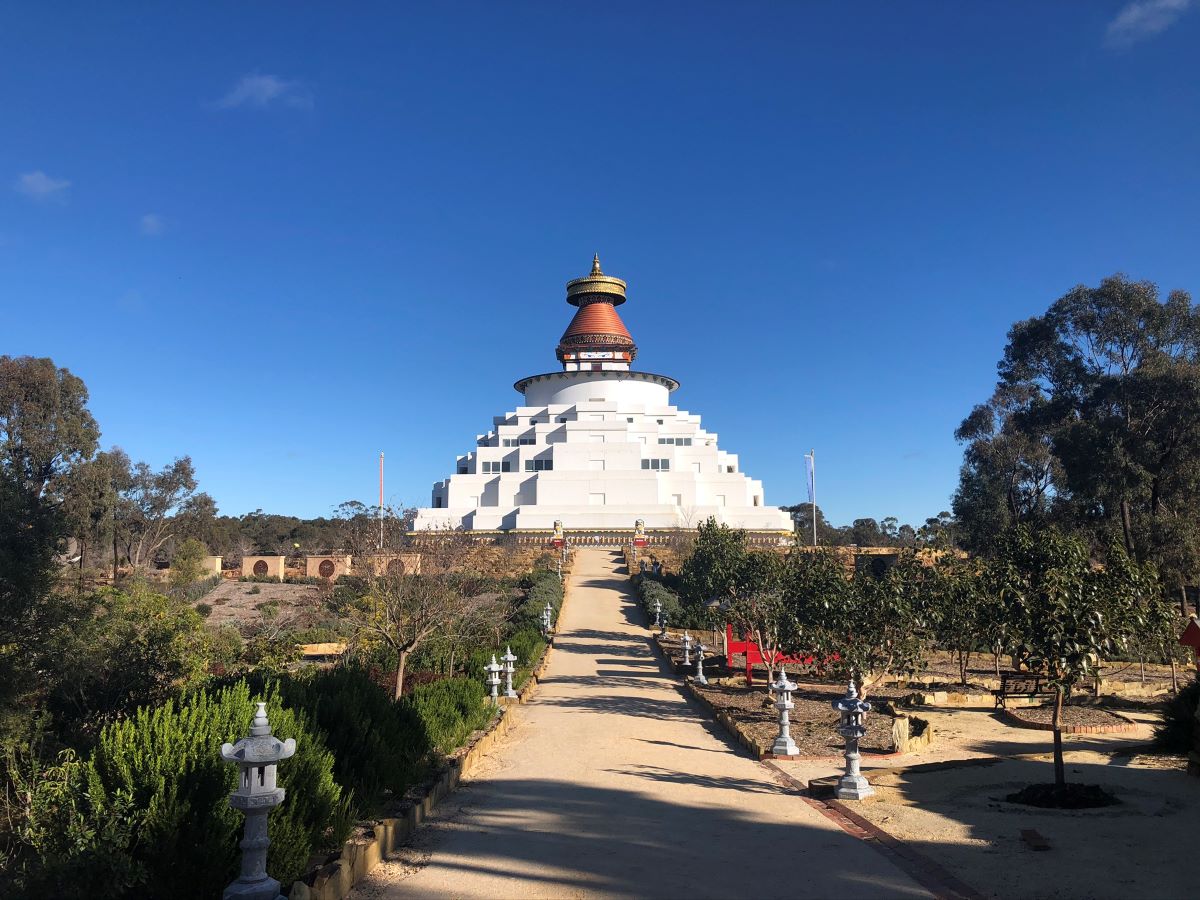 Best time for this activity
Best time of the day to go: Open 10:30am-3;30pm subject to change
Best time of the year to go: Anytime of year but the Lunar New Year is extra special but is busier.
Driving distances
Great Stupa to Bendigo – 18 min (13.5 km) via Calder Hwy/A79
Great Stupa to Melbourne – 1 hr 52 min (163.2 km) via Calder Fwy/M79
Parking facilities
There is plenty of space for free parking!

Official website
What you should bring/wear
Comfortable walking shoes, hat and general street clothes
More Information
A self-guided tour is a great way to explore the gardens and stupa. Entry by gold coin donation.
The gift shop has a great range of products to buy including beautiful jewellery and homewares.
Where to stay
Budget Accommodation:
Mid-range Accommodation:
Luxury Accommodation:
Bendigo Activities :
Lake Neangar/Canterbury Gardens

Star Cinema Eaglehawk

Victoria Hill Mining Reserve

Central Deborah Gold Mine

Rosalind Park

Golden Dragon Museum

Bendigo Art Gallery
Places to eat in Bendigo :
StupaView Cafe serves vegetarian food and drinks, plus gluten free and vegan options are available. Barista coffee is sourced from a local Bendigo supplier.
Balgownie Estate menu features sophisticated Australian cuisine and matching wines from their Bendigo and Yarra Valley estates. The cheeseboards are not to be missed.
The Friendly Bean in Marong has a range of light meals and serves delicious coffee.
 Subscribe for Bucket List updates