Bridge St, Richmond, Tasmania, Australia 7025
Walking across the oldest bridge in Tasmania (and Australia) takes you back in time to the early 1800's and Australia's early years as a penal colony.
As Tasmania developed into a farming community, a bridge was needed to improve the transportation of  convicts and early settlers from Hobart to other regions of the east coast, including Port Arthur. 
The first stone block was laid by convicts in 1823 and it took a further two years to complete;  the blocks of sandstone first needed to be mined from a nearby quarry and then transported to the site using wooden carts. 
At the time of completion the Richmond Bridge was the longest span of any bridge in Australia and measured 41m (135 feet) long and 7.5m (25 feet) wide. 
Even though the bridge was built by hand and designed for wooden carts to be driven over it, some 200 years later it is still strong enough to carry the frequent cars and tourist buses that cross it every day. 
The bridge has a fascinating history and is linked to several deaths; it is even rumoured to be haunted! 
If you are wondering if there is a Richmond Bridge toll, you will be pleased to hear that it is free to cross. 
While visiting Tasmania, make sure you explore the town of Richmond, but keep an eye out for ghosts when you are crossing the Richmond Bridge!
Recommended by Susan Gan from Thrifty after 50.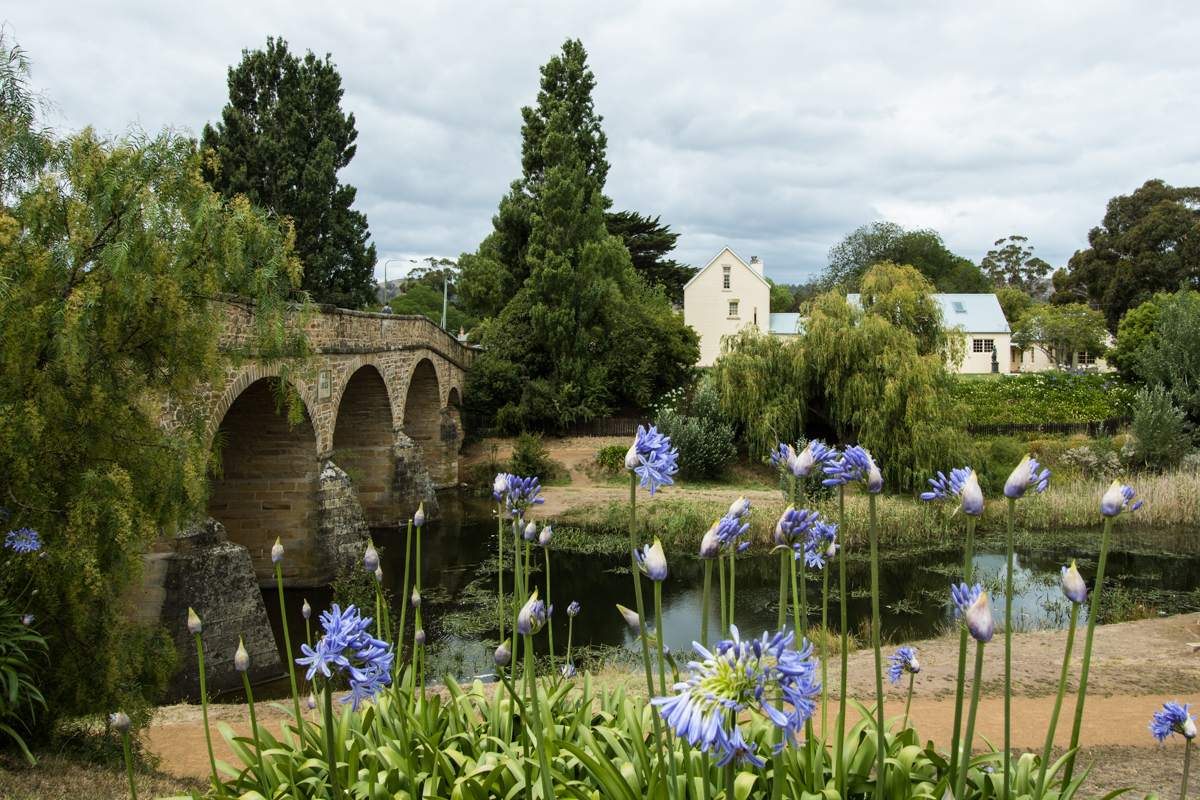 Best time for this activity
Anytime is a good time to visit Richmond village, Tasmania.
Driving distances
Hobart to Richmond, Tasmania –

25 min

(27.6 km) via Tasman Hwy/A3 and B31 
Launceston to Richmond, Tasmania – 

1 h 58 min

(173.7 km) via National Highway 1 and B31
Port Arthur to Richmond, Tasmania – 

1 h 16 min

(89.0 km) via Arthur Hwy/A9
Parking facilities
There is free on and off-street parking just near the bridge, though it can be busy on weekends and holidays.

Official website
What you should bring/wear
Just wear general street/travel clothes.

Wheelchair friendly?
Not really. There is a narrow gravel path that goes across the bridge but a steep incline as well as stairs to get down to the river.

More Information
The Richmond Bridge Road is appropriately called Bridge Street.
Make sure you pick up a Curried Scallop pie from the Richmond Bakery.

The grassy banks of the river near the bridge make a scenic spot to have a picnic.
Richmond (Tasmania) Accommodation
Hotels near Richmond:
Private accommodation / B&B, Richmond, Tasmania:
Things to do in Richmond, Tasmania :
Richmond Gaol – the Richmond Gaol Tasmania is Australia's oldest surviving prison dating back to 1825.

Littlewood Berry Farm – head to the Littlewood Berry Farm for fresh strawberries, rhubarb, mulberries, blueberries and raspberries.

Wicked Cheese Company – visit Wicked Cheese (Richmond, Tasmania) for freshly made cow and goat's milk cheeses, including Wicked Triple Cream Brie and Wicked Chilli Camembert.
Richmond Golf Club Tasmania – the Richmond Golf Club is a 9-hole country course.
Places to eat in Richmond, Tasmania :
Coal River Farm – A menu with modern Australia cuisine with a twist, including leatherwood honey and apricot muesli, fresh scones with jam and cream, tasting platters, smoked wallaby and port sausages.
Richmond Arms Hotel – The oldest Richmond pub in Tasmania, carries an extensive wine list including local vintages and serves a variety of meals from light bar snack through to four course meals.
Richmond Bakery Tasmania – Enjoy a range of light meals and a delicious variety of freshly cooked pies including their delicious curried scallop pie.

 Subscribe for Bucket List updates