Bridestowe Estate, 296 Gillespies Road, Nabowla, Tasmania
Open 10am - 4pm Mon - Fri only (during COVID19)
Approx. cost of $10 per adult
While visiting Tasmania, make sure you take the time to visit Bridestowe Lavender Farm, the most famous lavender farm in Tasmania, and go for a relaxing stroll through the Australian lavender fields. Admire the iconic curved rows of purple colour lavender flowers at the Bridestowe Lavender Estate Farm that not only look so effective but allow for rainfall to be better managed. 
Take a Bridestowe Lavender Farm tour and learn everything there is to know about the lavender process; from harvest through to the oil being extracted in the distillery. 
Sit back and relax in the cafe and enjoy a light meal sourced from locally grown products, and taste some of the lavender products on offer including lavender ice cream, lavender hot chocolate, lavender tea and even lavender honey; one of the only single flower honeys in the world.
Before you leave, make sure you browse through the gift shop and select from a wide range of lavender scented and flavoured products including lavender beauty products, gourmet foods, dried lavender and Bridestowe lavender oil. 
Last of all, it's hard to resist giving Bobbie the Bear (the Bridestowe lavender bear) a quick cuddle. This gorgeous lavender and wheat filled bear became an overnight sensation (and made Bridestowe the most famous lavender farm in Tasmania) when Bobbie the Bear was presented to Chinese President, Xi Jinping on a visit to Tasmania. 
Recommended by Susan Gan from Thrifty after 50.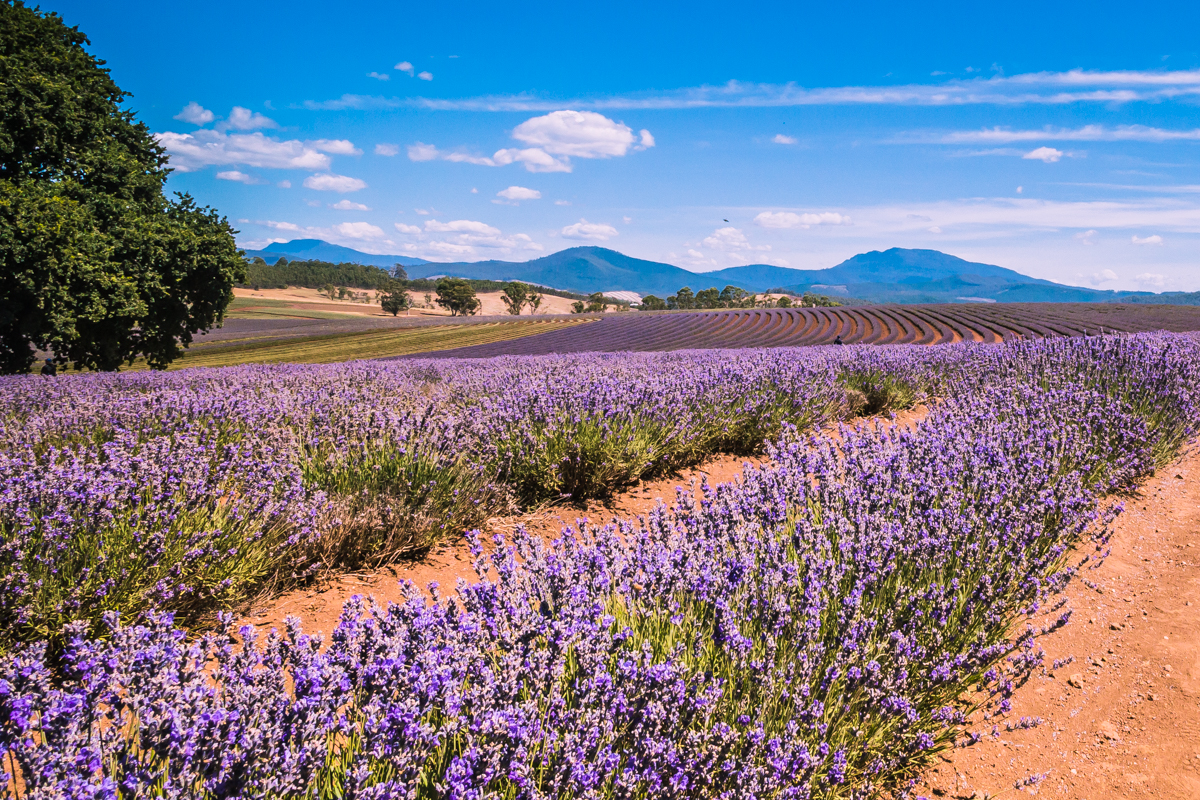 Best time for this activity
Best time of year to visit the Bridestowe, Tasmania lavender farm is Summer (Dec – Feb) when its the lavender season in Australia and the lavender flowers are in full bloom.
Driving distances
Launceston to bridestowe lavender farm – 44 min (51.7 km) via B81
Parking facilities
The Bridestowe Estate has ample parking in front of the gift shop.
Official website
What you should bring/wear
Just wear general street/travel clothes unless you wish to wear matching colours of lavender and dress up in pinks, blues and lavenders for the best looking Instagram photos!
Wheelchair friendly?
The Visitors Centre is accessible for people with disabilities. Bridestowe staff can organise special access of the fields for visitors with mobility restrictions but you need to contact them in advance to organise.
More Information
Phone reception at Bridestowe Lavender Estate can be poor, if you have purchased tickets in advance you should download them before arriving and take a screenshot.
Where to stay nearby
Most popular hotels in Launceston:
 Most popular apartments in Launceston:
What to see nearby :
Lilydale Falls – drive to the nearby town of Lilydale. From the reserve and picnic area you and follow an easy walk (10 min return) through ferns and eucalypt forest to  two delightful cascading waterfalls.
Providence Vineyards – Providence Vineyard is located near the township of Lilydale, in the Tamar Valley
Where to eat nearby :
Bridestowe café – Enjoy a range of light meals overlooking the lavender fields. The chefs cook with lavender so you can taste a delicious selection of lavender flavoured foods.
Leaning Church Vineyard – Enjoy a seasonal platter while you relax with a glass of wine from the award winning Leaning Church Vineyard.
 Subscribe for Monthly Deals